How to Build Effective Action Plans into your Business Plan
By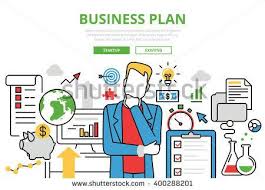 It's time to do your business plan! So, my blogs for December and early January focus on helping you create that business plan–and getting your agents to plan.
So often, our business plans are 'big picture'. It's lovely, it's inspirational–and it's utterly not useful to our everyday practice! For a business plan to work, it has to have the 'big picture' parts (vision, review, mission, objectives) AND the action plan parts–those things you really intend to do each day and week. These are the actions that result in reaching your monthly and yearly goals.
What Action Plans do Leaders Need?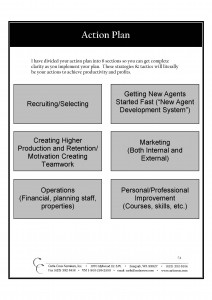 Here's a graphic from my online resource, Beyond the Basics of Business Planning. You can see the specific action areas I think you need in your business plan. I made these divisions so that you actually could create action plans that had relevance to what you do every day. And, accomplishing actions in these areas assures you are taking daily steps to reach your goals.
Action Plans Must Relate to Your Goals
Too often, when we get to the weekly and daily tasks, the actions that effect our bottom line just don't happen.
For example: You'll see that recruiting plans are one area of our action plans. But, life gets in the way and we just don't recruit. So, to assure you do the actions you KNOW will result in greater productivity and profits, use these divisions and make your specific plans. In my business planning systems, I've made detailed, fill-in forms that assure you think through and make action plans for each of these areas–action plans you can rely on. Otherwise, my experience shows that brokers just don't get to the details of action planning.
Click here to get a copy of these action plan areas.
Grab My Online Business Planning Program
Thought you'd get it done but it's still on your 'to do' list? I want to help!
Managers: Frustrated because you can't get your agents to plan? Problem solved! I've put my exclusive planning pages online–plus webinars to help you get through that plan fast. Don't wait another year for business success. See more here.
Managers: I'll teach your agents how to plan, too! Included in your Manager's Package!
Ready to order? Click below:
Beyond the Basics of Business planning for Managers  $249 (includes all the agent planning materials, too!)
Beyond the Basics of Business Planning for Agents  $99