Are You Sure You're Offering the Right Training?
By
Are you sure you're offering the right training?
For the next few blogs, I'm offering tips on making your training work better. And, I'll be offering tips for trainers, too.
Look at your training calendar. If you don't have one, simply take a 3-month calendar and write in the training you're providing.
At the end of this article, I'll give you my Training Calendar Evaluator—a tool to use to see what your training really looks like. I developed this tool when I was regional director for a very large franchise. I wanted to help managers and trainers improve their training programs and calendars.
What's the ratio of business-producing vs. business supporting training modules you have now in your training plan and calendar?
When I see some training calendars, I can see why their training is not increasing productivity. Most or all of their modules are concerned with business supporting subjects (technical knowledge): Home inspections, the law of agency, websites, social media, etc. That's all nice, but what does it directly do with creating productivity? Here's the path to a sale: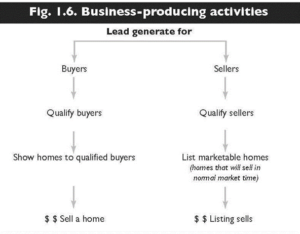 Excerpted from What They Don't Teach You in Pre-License School (Carla Cross, Noteworthy Publishing, Inc.)
If you want to increase productivity and profits, your training calendar needs to reflect your training in these business-producing areas.
What are you training to that will make a real difference in your productivity and profits next year? Put that in your business plan.
To get my analytical tool, Training Calendar Analysis Tool, click here. I've added some questions, too, in most categories, to help you think through these decisions and come up with a blazingly good training program.
Let me know the changes you've made based on your evaluation. I want to help you create training with impact, with less work from you!
Help for your Training and Trainers
Do you provide training for your presenters and trainers? I'd love to help you, and them, learn and practice these types of great, quickly applicable strategies. I do trainings and presentations for Realtor trainers, trainers of real estate companies, and affiliates.
Get in touch with me and we'll talk about your needs. I customize each presentation, too, for YOUR specific audience needs. My background as a performing musician, coupled with my real estate sales, leadership, and training experience, gives me a unique 'take' on training trainers. I'd love to help you!