They're Not Paying Attention! How to Hold Them 'Captive' Online
By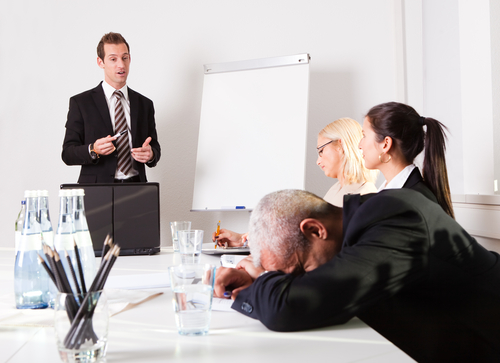 They're not paying attention! Here are two creative ways to keep their attention and interest when you're training online.
From Classroom to Online–Not as Easy as We Think…..
The Problem: Not Enough Variety When We Teach
When we're training 'live', we get away with using one or two training methods–mainly lecture and discussion. But, when we're go online, just those two methods don't suffice. In fact, a majority of my online training attendees say they lose interest, on average, in 5-15 minutes! 
Two Creative Methods to Focus Your Audience's Attention  
Get them up! Imagine it's a usual day in your business. How many hours a day are you in training or meetings now online? Two–four–or more? You can't help it–you get distracted and bored!  And, if you're a trainer, you're probably more able to focus on the training than most! 
I just saw a trainer give this assignment: "Get out of your chair. Go find something that has significance to you, regarding our topic. Come back and tell us why you chose that object." The attendees loved the exercise!
How could you use that idea? If you're teaching listing presentations, you could bring back a picture of your home and talk about what appealed to you. If you're teaching how to create a database, you could bring back your Christmas card list (or a bunch of Christmas cards you've received). 
This exercise does several things. It gets people out of their chairs! It refreshes their mind. It helps them focus on what's important to them. Then, when you share the results with everyone, you start to build camaraderie with your attendees.
2. Send a box with things inside you're going to use in your course–and don't let people open it until they start your class. Isn't that fun–and kind of mysterious? We all love to get boxes (Have you gotten a box from Amazon and had forgotten what you've ordered? Of course….). Doing this exercise helps you focus on your attendees and prepares them that they will have a different experience with you. Then, your box could include exercise, mystery objects–whatever creative things you can dream up to include.
Want more information and inspiration? Check out my prior blogs here for more strategies you can implement to provide variety and keep their attention.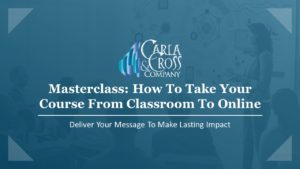 Want more ideas? Watch my video below. 
Want to watch the video of my webinar Masterclass: How to Take your Classroom Online?  Go to www.carlacross.com, and press the Webinars and More Button. You'll see the post with the video and the handouts available for you.
Let's Work Together to Make your Online Course Awesome!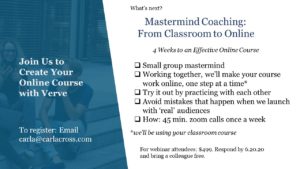 I've extended the registration period to June 30, so you can take advantage of the 2 for 1 registration. Don't teach online until you have a tried and true 'formula' and have tested your results. You'll have an opportunity to do both, with individual coaching from Carla Cross.