Business Planning: 53 Coaching Tips from 'the Coach'
By
During November and December, I'm focusing both of my blogs on business planning. Look for ready to use checklists, processes and systems. Let's make awesome 2011 plans!
Have you ever seen anyone follow a process doggedly–and then fail? Of course. Whether we have a bad roadmap, a poor teacher, or a lacking coach–it all leads to less than exceptional performance. I know this intimately, as a musician. I've worked with musicians who learned a piece of music wrong. Then, they just keep playing it wrong! They can't seem to break those bad habits–even when they know they are playing it wrong.
The Power of Models
We blithely follow just about anyone's directions, because we assume they must be good if they're published (ha!). Or, we follow them because we like them. However, sometimes the plans we are drawn to are really, really bad! We like them because they ask little of us.
Be very critical of the directions, plans, processes, and systems you get from someone. If they are poor, they will lead you in poor directions.
Watch a Failing Real Estate Agent to See What I Mean
So many times, agents come into the real estate business and make up their own 'version' of the business. After all, they come into the business to be 'independent'. If they only knew what they were doing to themselves…..You see them sit around and wait for something to happen. You see them criticize the 'leads' they are given. Left to their own devices, they create a plan for failure. The worst thing is that they don't even realize they are doing it! They think that any plan of action will work to get them to their goals.
Be sure you are using proven plans–whether you are a new agent, a seasoned one, or a leader. From coaching many managers and owners, too, I know the difficulty for you of finding models and examples you can trust. Sometimes we end up knowing what we don't want to do–but we can't figure out what to do! (that's from the behaviors we see of managers we don't admire….)
Some Business Planning Tips from the 'Coach' (That's me…)
Click here for those 53 tips from the Coach.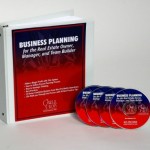 A model for business planning you can trust:
Check out Business Planning for the Owner, Manager, and Team Builder. Special pricing through December, and a business planning webinar bonus, too.