Are Your Presentation Skills Putting Them to Sleep?
By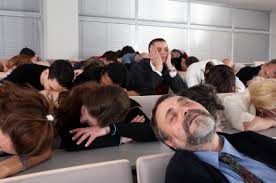 Are your presentation skills putting them to sleep? June is my designated Trainer Appreciation Month. So, I'm featuring blogs, videos, and resources about training.
Presentation skills–or the lack of them–makes or breaks any classroom experience.
Take a look at my resource for presentation skills: Knock Their Socks Off: Tips to Make your Best Presentation Ever. Buy it 1/2 price when you also purchase How to Write a Course with Substance, Sizzle, and 'Sell'. These two resources are regularly $200; now, with the coupon trainer you'll pay 1/2 price. This offer ends June 30, so act now.