Online Training: One Method to Keep Their Attention and Increase 'Take Home Value'
By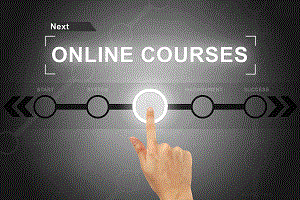 Do you do online training? If you're like most of us, the bulk of our training was done in the 'live' classroom. Not so today. And, the prediction is that we'll continue to do much more training online–forever.
Some Of Our Greatest Concerns When we Go Online
In the webinars I've been doing, I asked the audience for topics for me to address.
How to Solve the Problem
As instructors have found, you can't just turn on the camera and talk! So, how do you use various methods to engage your audience and increase learning? First, you must decide where and how you want participation. Then, you include those methods in your online course. Below, you'll see an invitation to join me for a Masterminds series where we'll 'translate' your classroom course to an effective online presentation or series.
Several Methods to Engage your Audience in Online Courses
Below, I'm inviting you to see my recorded webinar on how to take your class online. You'll see several methods to engage your audience, and I'll demonstrate several to you. Count the number of times I asked the audience to engage (you'll find 11 or 12 in an hour session!). 
Great Audience Engagement Tool: Use a Handout with Work to be Done
In the webinar I mentioned, I created a handout for each participant with questions for them to answer as they proceeded in the webinar. I addressed a topic, and then provided some 'time out' for participants to decide how they could use that idea in their own course. By the time they finished the webinar, they had filled out a page of ideas on how to 'translate' that 'live' course to an online platform. Use this handout as you go through the webinar to 'translate' your course as you go. You'll end the hour with several ideas ready to put to work as you re-create your course online.
Question: What work or handout could you provide to use as you introduced topics in your webinar? How could you involve students in completing the questions? What could you do with your course handout in subsequent series? How could you use it in forums or small groups to engage your students?
In my next few blogs, we'll investigate more ways to hold attendees' attention and increase learning.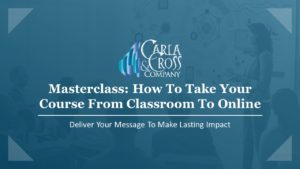 Want to watch the video of my webinar Masterclass: How to Take your Classroom Online?  Go to www.carlacross.com, and press the Webinars and More Button. You'll see the post with the video and the handouts available for you.
How I can help you go online with confidence: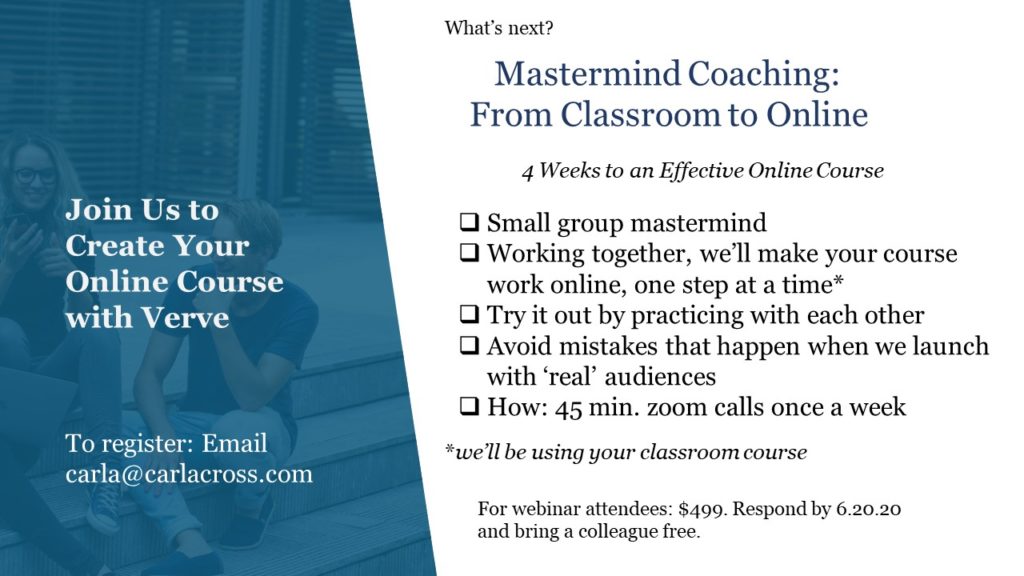 Join us and then launch your online course with confidence!