Testimonials–Build Your Reputation with the Best Foundation
By
Carla Cross
Are you building your online reputation with purpose?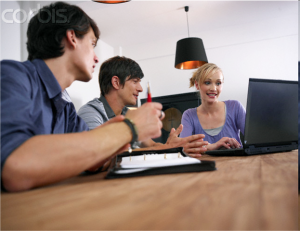 In the last blog, we talked about how our reputation has gone online–and the dangers that accrue if we stay affiliated with those that don't represent the best 'us'. Now, here's how to build that reputation the best way.
Survey, Survey, Survey
Does your company send surveys after the sale? Do you call all those who don't return the survey? (They're not mad enough to dump on you, but they're probably not happy enough to eagerly complete the survey). Do you fix problems fast? If so, you are in the 'vast minority' of real estate companies.
Associations are Starting To Survey
One Realtor association, the Houston Association of Realtors, has decided to regularly survey consumers on behalf of their members. In just a short period of time, the Houston association has gotten a staggering 47% response rate! I think that means the consumer really, really, wants to tell us what he thinks of us.
Don't have a survey?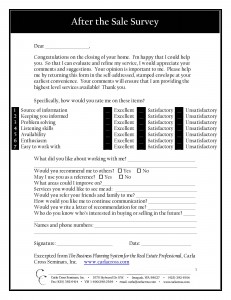 Click here to get my After Sale Survey.
Suggestion: Send it from the office. Or, ask an independent company to send it. You'll get a much better return rate.
  Rebuilding Trust: The Hidden Challenge
 The hidden, and I think, biggest challenge in real estate today is rebuilding trust. For, without trust, you can't form rapport. You can't move the sale forward. You certainly can't get to 'yes'. You can't get good evaluations. So, evaluations and action on them need to become a huge part of our sales strategy. Not only do we need to let consumers know what others think of us, we need to make those testimonials available in hard copies, on our website, in our blogs, and in these new sales agent evaluation websites.
It was amazing to me, as I read the feedback from consumers, that the agent probably didn't know—or care—that those very negative testimonials were virtually 'circling the globe'. Take charge of your reputation now by surveying, coaching your agents, and separating yourself from those agents who are not helping you build your invaluable reputation.
Leave a Reply