Grab this No/Low Cost Effective Marketing Method
By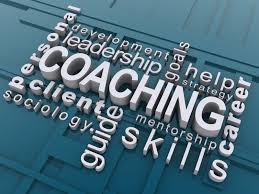 Want a no/low cost effective marketing method? Here's an inexpensive, yet very effective method to stand out from the crowd—writing articles to establish yourself  as the "real estate manager of choice".
We become managers because we love to succeed through others. Most managers thrill to track their agents' development—and recognize that at least part of those agents' successes are attributed to the managers who support them  So, great managers develop the skills of training, coaching, and consulting—the methods they use to develop their agents' careers.
However, it's not enough to have the skills. These managers must also help agents find them! In this blog, I explore an inexpensive, very effective method for managers to use to promote themselves. (It works, too for agents to promote themselves as experts effectively and inexpensively).
The Problem
You can have the best product or service in the world. Yet, if you don't let others know about it, the product or service doesn't succeed. It's the same way with managers. Too often, these same highly skilled, highly effective managers think that agents will, on their own, simply figure out that these managers are exceptional and join them. Not so. Unfortunately, many agents think that their success will be due to other factors such as:
The amount of good floor time given in a particular office–or Internet leads, or Relo leads–or any of those 'reactive' lead sources unscrupulous managers promise agents to get them to sign up!
The name of the company
The real estate market at the time
The amount of desk fee or commission structure
If any of these were true, the agents in that particular office would all be making the money of their dreams! We know that's not so. You know you're a great manager. You know you've helped agents succeed at a high level—fast. How do you promote this fact to hire more great producers?
Advertising And Public Relations: Do You Have Both in your Recruiting Strategy?
Too often, real estate companies and managers use a one-dimensional approach to recruiting. They look to institutional advertising only to recruit agents, just as they look to home advertising to find buyers and sellers. There are three concerns with relying on paid advertising only for recruiting:
1. The agent is over-communicated with today—everyone's doing it
2. The cost of mail and newspaper advertising is ever-increasing
3.  It relies on the strategy that all managers are the same, it's just the company that's better
Revving Up your PR
Instead of spending so much money in advertising, and/or relying only on one type of marketing, expand your recruiting strategy to a different method of promotion: public relations (PR). Specifically, add to your recruiting strategy writing articles, getting them published, and using them for various recruiting tactics. You can use the same articles in your blogs. Why PR? First, it costs nothing except your time. Second, an article has a much higher 'trust' level than an ad. Third, you've got little competition. Fourth, you can use those articles in a myriad of ways to promote yourself:
In mailers
In your office entry "Book of Greatness" *
*See the link below for the contents in a Book of Greatness
In your pre-first visit recruiting package
In your recruiting presentation
Click here to get your complimentary 'how to':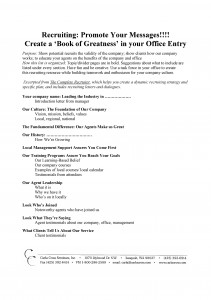 Create your recruiting Book of Greatness for your entry.
How to 'Market' your Brand
How do you create trust? How do you differentiate yourself? How do you prove you really are what you say you are? In this market, everybody and their brother tells potential recruits and clients they are the best. You can't afford to be one of the crowd!
This resource shows you, step by step, how to gain trust and differentiate yourself in a graceful, effective manner–a manner that's comfortable for YOU. See it here.