Archive for Recruiting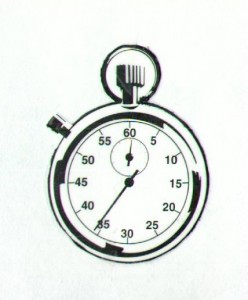 Onboarding: Those critical first seven days. Find out why that first week is so critical.
First: What does new agent onboarding and training have to do with retention? According to two recent studies–a whole lot!
In this blog, I'll address some of the results and its ramifications for real state companies–from the survey published by the Society for Human Resource Management (SHRM).
Why Bother with a Great Onboarding System?
Because you'll have much great retention! According to the SHRM study, companies that leave onboarding to chance experience higher than 50% failure rates when it comes to retaining new talent.
Question: Do you have a great orientation system? Are you leaving anything to chance? Does your new agent feel like he/she is in a fog for the first few months?
If you want a template and suggestions of what should be included in your orientation, click here.
Those New Hires Check Outa There Fast! (Faster than you Think!)
According to the same SHRM survey, 67% of millennials are already thinking of looking for their next job on day ONE!
Question:
Tips for Those First Critical Seven Days:
Manager sends a welcome email  or snail mail (better) to new agent on day one.
Each day's activities are completely outlined so the new agent knows exactly how to proceed (you're building in habits of success).
The first week's activities include shadowing and lunch with one of your senior colleagues. (If you have an advisory council, this is a perfect match!)
Welcome gift given to the new agent on day one.
End of first day checklist completed with manager
Round table or lunch set up with your influential agents to welcome the new agent
Use a detailed, prioritized action-plan checklist, like Up and Running in 30 Days, to assure the new agent knows exactly what to do, how to do it, and is held accountable to it.
Outcome: 69% of new employees are more likely to stay more than three years if they have experienced a well-structured onboarding program.
So, how does your onboarding system stack up?
Find out: Regularly survey your agents who have been with you 6 months to find out what they found valuable and how it could be improved. Why not have the best onboarding/retention system in the industry?
A Survey for You to Use: Next
In my next blog, I'll share the survey I just did in an office where I'm consulting on their onboarding system. Boy, did I get some great feedback!
How's Your Quick-Start Program Working?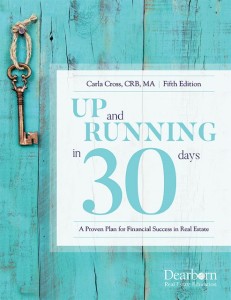 Both these onboarding studies prove that leaving the new agent's orientation, training, and start to chance just doesn't cut it. Take a look at what's new in Up and Running in 30 Days: updates in 5th edition. This invaluable book is only $32.95 plus shipping, and has been used by thousands of new agents to launch successful careers. Order here.
What could your retention rate be if you had a superior onboarding system?