Archive for free webinar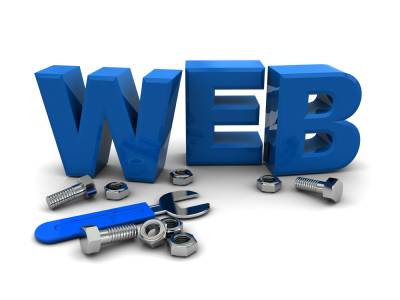 From classroom to online: Why can't we keep the audience's attention like we do in the classroom?
The situation: We real estate instructors are good talkers.  (as are most instructors in all fields). That's one of the reasons we love to teach. We love to impart our knowledge. Most of our teaching has been done 'live'. In a 'live' classroom, we can get away with talking (we call it 'lecturing') for the whole class–we think.
At least, we have a fighting chance at keeping our attendees' attention, because we're animated, funny, and compelling–and we tell great stories.  The students love us, because we have asked them to have no accountability for their own learning. In addition, they love to be entertained! (Well, at least that's true for some of us….)
Not many teaching methods are employed in the 'live' classroom.
Why don't we use more teaching methods? 
We're creatures of habit, and we have honed our skills in these two areas. We don't want to give that up to try some new methods.
We believe that talking to or with our attendees is the best way to teach. True, it's the best way to impart lots of information fast. However, studies show that students will not retain much of the information!
We just don't know how to teach in any other ways.
Sad truth: We may be too lazy or uninspired to expand our teaching methods.
The inadequacies really show up when we go online. In a week, I'm doing a webinar on how to take your classroom online. In the pre-webinar survey, I asked attendees their biggest concerns. About 70% of the concerns were
how to hold the audience's attention online.
No wonder. Because we've relied on instructor-focused training, we attempt to merely turn on the camera and talk as though our audience were with us in the classroom. We've found out that doesn't work to keep an audience's attention online.   
Adjustments We Must Make to Be Effective Online
First, before we re-create that course online, we must look at our classroom version of our course. Ask yourself:
Does the course organized to teach to measurable objectives (what will the student be able to do at the end?)–or, is it just organized by subject?
If it isn't organized to objectives, it will be very difficult to create meaningful attendee activities to get and keep their attention.
Is the class 'choreographed' with several teaching methods (we call these 'alternative delivery methods') that provide relief from lecture and discussion (like task force, case study, role play, and activity plan)?
If the class is taught only with lecture and discussion, the instructor will find it difficult to involve the online attendees in learning.
Does the class consist of fact-heavy information, delivered from the lectern? If so, how can we re-purpose all this information so it doesn't overwhelm the online course?
In the online course, some of the information must be 'pruned out'. What are some alternative methods of providing that information?
What accountability does the student have in the class for learning?
If  no accountability, it's more difficult to engage your audience.
Answering these questions will show us the adjustments that must be made in the class prior to creating the online version.
Want more information on instructor methods and course creation? See my online course Train the Trainer, which is accredited for 15 clock hours of Washington state continuing education credit. It fulfills the qualifications to teach clock hour courses in Washington state. 
More on Creating that Online Version of your Course and Involving your Attendees
In my next blog, we'll investigate the easiest ways to involve your audience online. This is especially helpful to those who rely on lecture and discussion. 
Free Webinar June 11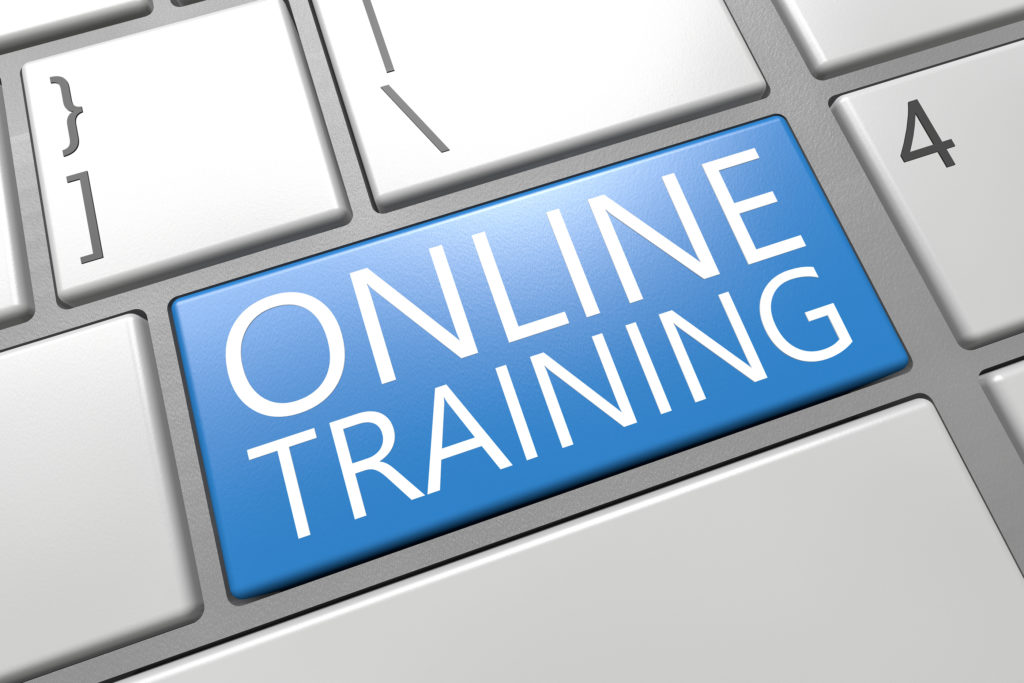 If you're facing challenges of translating your 'live' classroom to online, join us for Masterclass: How to Go from Classroom to Online.
When: June 11 (Thursday)
Time: 10-11 am PDT
Click here to register.
You'll learn how to create a great course structure, how to hold your audience's attention, how to add variety to your course, and tips to present your classroom course for a successful online event. This webinar is created especially for those trainers presenting to real estate professionals–and valuable for anyone who wants to 'translate' their classroom course to a professional online experience. I've added a worksheet for you so you can instantly 'translate' the webinar information to your own online course.
As a three-decade trainer of real estate trainers, I've learned the special presentation methods needed to keep and hold real estate professionals' attention. I'll show you how to include these in your online course structure.
Bonus for attending: A 2-page checklist to use to take your classroom course online with verve.)
Click here to register. (By the way, when you register, you'll get a survey to let me know what you want me to address, so the webinar will be most valuable to you.)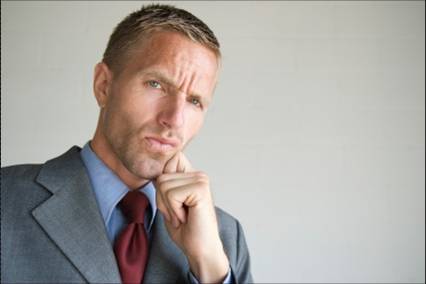 Do you have your 60-day pivot business plan in place?
Congratulations to you if you made a 2020 business plan. However, none of us could have foreseen the events of the past two months. Those events have called for a different plan–both for you and for your agents.
5 Big Questions to Answer Right Now
Next Thursday (April 23), I'll be doing a 45-minute webinar exclusively for leadership on actions to take right now to retain agents and plan for profits. Here's more information on that.
To prepare for this webinar, here are some questions leadership needs to ask themselves to evaluate whether they've got everything they need in place to lead in this uncertain environment.
What are you doing right now to communicate regularly with each agent in your office? Do you have a schedule? Have you helped each agent with a pivot business plan? (I'll be providing a template for you to use with your agents after the webinar).
What's your agent mix? How many new agents, growth agents, mature agents in your mix? Do you have a plan for each group to move them forward? (I'll provide you a tool to segment your agents).
How have you changed your training to continue it without disruption? Are you doing 'live' online events, or have you contracted with an outside source to assure your training has continuity?
Who else have you enlisted to help retain your agents? Do you have any teaming in place?
What's the morale like in your office? With each agent? What actions are you taking to improve each person's outlook so they will continue their business in a meaningful way now?
Answering these questions will prepare you for the actions I'll be suggesting to you during the webinar next Thursday, April 23, starting at 10 am Pacific Daylight Time.
The good news: This is the time when leaders can LEAD. The feelings of insecurity, of fear of income loss, fear of sickness–all can overwhelm our agents unless we step forward with positive leadership actions. The actions I'll be suggesting to you next week will build loyalty and retain your good agents, preparing for a market re-emergence.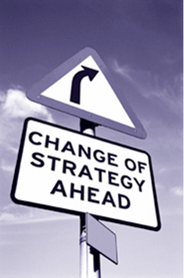 Leadership:
The Actions
to Take Now
to Preserve
Profits Later
Join me for this fast-paced, 45-minute webinar exclusively for leadership April 23 (Thursday), at 10 am PDT. Click here for more information and to register.
Do you where your agents spent your money last year? Knowing is critical to their NOT having empty pockets next year. I know you're going to help your agents create business plans this year, so I want to share these stunning surveys with you.
In my upcoming webinar, I discuss the importance of 3 critical areas you must know–and your agents must know– to succeed next year. One of these areas is the agent's budget.
Here are the surprising results of a study on how top agents spent their marketing dollars: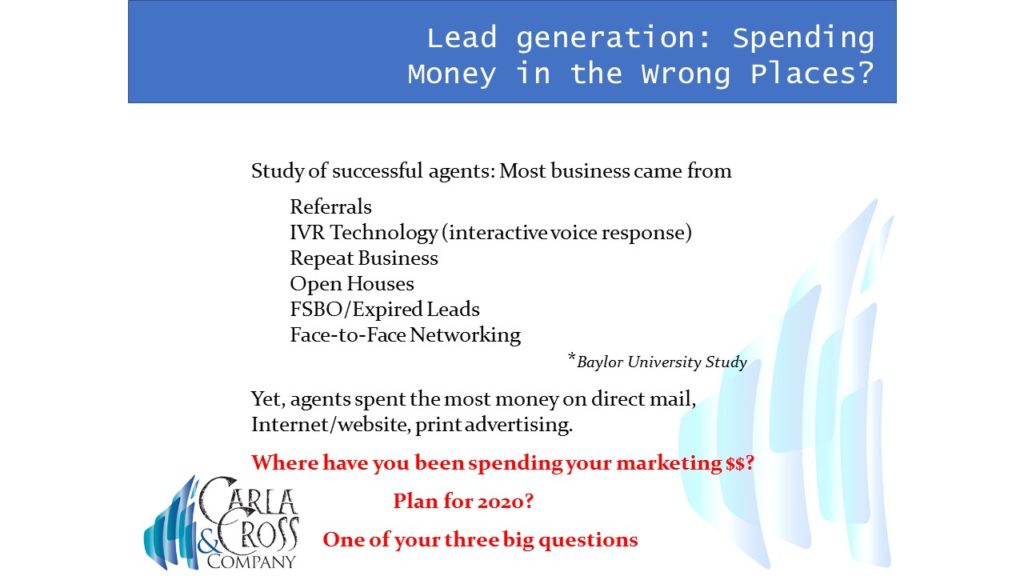 As you can see, agents spent their money NOT on the best sources of business, but on other sources. Why? Maybe because they thought these other sources were more interesting. Maybe they wanted to try something new. Maybe they didnt know where they had spent their money before, and just kept throwing it at these less-than-stellar sources.
Help your agents find out where their money went last year, and how big a bang they got for the buck. Now, you're ready to plan for 2020.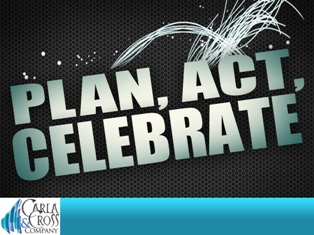 Join Me for my Complimentary Business Planning Webinar
Whether you've been in business 20 years or 20 minutes, you need an awesome blueprint for a great 2020–and so do your agents. Join us for this fast-paced webinar, where Carla Cross, who literally 'wrote the book' on real estate business planning, will help you do just that.
In this webinar, you'll:
Get the blueprint the most successful agents and businesses use to create a plan that works. You don't need a 'fill in the blanks' color by the numbers plan–you need a businessperson's way to think through your business so you're ready for anything that comes your way in 2020.
Gain the critical step usually left out in business planning–the step that can literally save your money and efforts from going down those dreaded planning 'cul-de-sacs of frustration and failure
How to predict and project your 2020 results so you know your plan is going to work for you–not someone else!
Your gold mine right in front of you—and few agents are 'mining' it. You'll save thousands in marketing dollars, lower your stress, and enjoy a much better business if you create the right action plan for 2020.
You'll get some stunning and surprising statistics that will help you create the right actions for 2020, instead of guessing at what to do next.
Managers: You'll gain tips on helping your agents plan–and how you can be a true support for their planning efforts. Just imagine what your profits would be like if every one of your agents had a workable plan?
Questions: You'll have a chance to ask Carla your business planning questions, too. You'll gain handouts from her business planning programs.
Space is limited, so register now! Let's work together to create an exceptional 2020.
$$$$$$ 2 lucky people will win Carla's complete business planning systems, too.
When: Dec. 12 (Thursday)
Time: 10-11 am, Pacific Standard Time (west coast)
What: Business planning webinar (join with your computer)
After registering, you will receive a confirmation email containing information about joining the webinar.