Archive for evaluations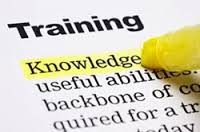 Trainers: How do you assure that your attendees actually capture strategies that they feel will help them in their careers? Or, do you just expect them to be able to make the leap from what you're teaching to how they'll use the information and skills?
The strategy I'm explaining below is excerpted from my training programs, which certify instructors in Washington state to teach clock-hour approved courses. See Train the Trainer, my distance-learning version, or Instructor Development Workshop, my live version. Both can be found at Cross Institute.
The situation: The attendees sits all the way through that day-long class. In the after-class evaluation, he says, "I didn't get anything I could use." Oh, boy. Here you've worked hard to bring each attendee the strategies needed to propel careers forward. Yet, this attendee (and it's a common problem), said he didn't get anything useful from the class.
What's going on? What's going on is that attendees may not have a method to translate what you've shared in class to apply to their own situations. You need to provide them a method to 'translate' your strategies to their solutions, and capture those translations to put to use once they're out of class.
The Action Plan Method
Here's a great method to do just that. At the end of your warm-up, or, at least in the first 1/2 hour of your presentation, introduce the action plan. In this section, I have given you a couple of examples of action plans. Also in this section, I've made a sheet called your action plan. Put this sheet in your handout, or make it a separate sheet.
Take a look at the Action Plan template here.
If I were teaching this class 'live', I would ask attendees to take this sheet out of your handbook and keep it beside you, as you go through this course. I encourage you to include an action plan 'template' in your outline when you're teaching, and ask the students to take it out of their handbook, and keep it beside them as they go through the course so they can capture action items. These action items don't have to be things that you say. it's whatever pops into their heads. Many times when I'm teaching, I tell people that the person with the longest action list gets the most out of the course. So if they paid $250 for the course, and they've got an action list of four pages, they really got a $2500 course. Whereas the person who paid $250 for the course, and has three items on the action list, probably should have paid only $50 for the course! (Or, at least that's the value they got, because they couldn't apply all the principles and skills to become a better instructor).
It's not the information you get. It's what you do with it.
Including this step increases your adult learner's desire and ability to create practical action steps to implementing the concepts and skills you are teaching.
Adult learners many times don't have the skills to translate the concepts you're teaching to 'real life'. Using the Action Plan process teaches them to learn better.
How do you provide 'reflection time' so that your attendees have a quiet moment to think through possible action items and commit?
Let me know how this terrific method works for you!