Archive for training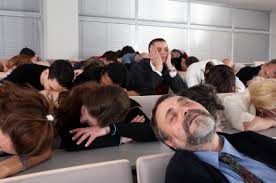 How to get them to attend training?
A common complaint of managers is that they can't get their agents to come to training. For the next few weeks, I'm concentrating on training.  Why? Because it should be a huge part of your value proposition. After all, you can't just recruit them–can you? You need also to have a complete development system. Coaching and training ARE a huge part of that agent development system.
Having trouble getting them to training? I turned to one of our senior coaches, Jodi Sipes, M. A. Here, Jodi shows you how to market your training to attract your agents and get them excited as students. Jodi's advanced education in adult learning, plus her years of experience creating and implementing exceptional training for new agents, gives her a unique perspective.
Don't be Dull! Set up Themes to Pique the Curiosity and Up the Attendance
Don't just list the topics you are going to present. Create themes. For example: Listing month! New Year Planning! Spotlight on Buyers! Now that you have the over view of training and components put together, make sure that they compliment and support each other. For instance, when you are training new agents with the Up and Running in Real Estate training schedule, you should have supplementary training/practice days in your office. This is also a great place for experienced agents to grow as trainers—plus, their time will be saved, as they will teach everyone at once, instead of having a bunch of new agents knocking on their door with questions all the time.
Get Creative! Give it a Provocative Title
We see lots of training calendars in our training consulting. Most of them are dull as old brick! Don't just list the topic. Instead, get creative. Make the topic interesting, even provocative. Put a new 'spin' on the topic. For ideas, read the names of programs given at your state and national Realtor conventions. Some of the topic names are really creative!
Give it a Double Punch for Double Learning
Don't just teach the curriculum. Find ways to expand that subject from all the angles. For example: When you have a new agent training section on listing presentations you should have a top Realtor from your office give a demonstration on an effective listing presentation or an effective CMA. When you work with Buyer's presentations, have a lender come explain the issues and requirements buyers face. Lead follow up and business planning create a good time for software vendors to show their programs. Marketing sections offer an opportunity for affiliates to show how they can support agents, and for vendors to show how their products can support agents. These supplementary classes are great for all agents of all levels.
Alternate Formal with Casual for the Unexpected
It's also great to incorporate casual (brown-bag lunch—agent "Rap" session) support groups to encourage agents to share their ideas and frustrations. This creates a "teamwork" feel to your office, and helps agents through current challenges. When the manager shows up at these for the first part, agents can get their questions answered in a format that answers these for many agents—saving the manager time!
Putting together world-class training is a process, and will not be all you want it to be right away. It takes planning, support from your agents and affiliates, and time to catch on and develop. You can grow and improve each year.
We are here to support your agent development systems. Talk to us about coaching you in developing world class training. You'll go further faster, and have time to do all the other management duties you know you should be doing.
Are Your Agents Developing Quickly?
Let us help you create a recruiting, coaching, and training plan that works to get you–and them–more productivity faster. We'll help you career complete Career Development Systems for both new and seasoned agents. Now, you have systems. You can expand. you can relax a little. Why not check out Leadership Mastery Coaching with a complimentary consultation?