What's Your Manager's Job Description?
By
What's your manager's job description? This month, I'm featuring blogs for new managers (but, these tips would apply to any manager anywhere, anytime….).  In my coaching business, I often ask managers
"Did you get a job description when you were hired as a manager?"
They almost always answer "no". And, my question is, "If you didn't get a job description, how do you know what your owner expects of you? How do you know your priorities?" In fact, managers don't. So, before I share my prioritized job description for managers, write down your job description as you see it–with the priorities of the job.
What do you think are the parts of your job that move your office ahead in production and profits?
What are the 'support' parts of your job that you need to do to keep the ship afloat?
Which of these categories do you do more consistently? Why? 
My Job Description for a Real Estate Manager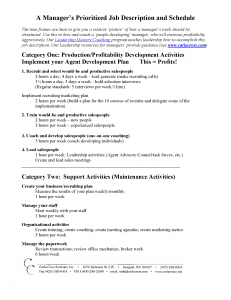 Now, click here to gain my manager's job description.  Not only have I prioritized the activities managers do, I've quantified them with numbers of hours managers should spend in each category. Compare my description to yours.
General Managers: Use this description to hire and terminate
Too often, when managers are hired for the job, they aren't told the priorities or the amount of time they should spend on those priorities. Then, when they aren't attaining their goals, and their 'boss' gets frustrated, the manager says, "Well, I'm doing what I thought you wanted me to do."
Misleading Statements in the Interview Lead to Managers' Failure
From working with managers for decades, I've heard some doozies in the interview. One manager told me his owners told him–during the interview–he didn't have to recruit. After a couple of years of his office failing, his owners hired me to get the managers (3 of them) to recruit! What a setup…..
Another group of managers told me they were hired 'to keep people happy'. Nothing about production. Nothing about profits…..these managers were really glorified baby-sitters!
So, be careful to provide your version of the manager's job description during the interview, and create your interiew questions to reflect your values.
Managers: Get Your Obligations Straight In the Interview–Not After
If you're just interviewing for a job now, or are a new manager, take my job description to your owner or general manager and find out exactly what your priorities are. Find out what you'll be held accountable to. Find out what training and coaching you'll receive to reach and exceed those goals. Now, we're all on the same page!