What the Beatles' Architect Can Tell Us About Real Estate Success
By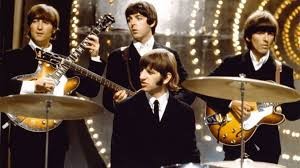 What in the world do the Beatles have to do with real estate pros success? A lot, I think. We've all heard of Paul, George, Ringo, and John—but, does the name "George Martin" ring a bell? Maybe. Martin was the record producer who discovered and molded the Beatles, adding his classical musical background to the Beatles' creativity to produce the Beatles' unique and ever evolving sounds.
As a musician myself, I've always marveled at how the Beatles put classical musical aspects into their rock 'n roll. Well, guess what? They didn't do it by themselves—they melded their talents with Martin. George Martin just died at age 90, and many articles are being written about his collaboration with the Beatles. As I read these articles, I was thinking, "These life and performance lessons are absolutely applicable to us real estate professionals." So, I culled five life and performance lessons we can learn from their association. Here are the first two, and I'll continue in my next blog.
Keep improving your team until you are working with the best.
Martin urged Beatles' manager Brian Epstein to replace drummer Pete Best with Ringo Starr, who he felt was a better drummer. Is your team the strongest it can be? Who's holding you back? Who's hindering your best performance? Who do you need to replace? I know, as an ensemble musician, you never play any better than your worst player! 
Start every listing, buyer and training presentation with an attention-getting 'hook'.
Quit that boring droning that begins most presentations! Instead, do what Martin suggested: Start with a 'hook'.   Martin suggested Paul McCartney replace the first verse of Can't Buy Me Love with the 'can't buy me love' intro. That's the hook, and we never forget it, do we? Do your listing/buyer and training presentations start with something attention-getting, or do you 'ease into' your presentation with banal comments like 'I'll keep this short' or 'we've got a lot to cover'. Stop being banal and get creative with your opening (we practice this in my Instructor Development Workshop and I teach this in The Ultimate Real Estate Trainer's Guide).
Applying these Principles with your Agents
Are you working with the best people? If not, why not? What do you need to do with your recruiting, selecting, and retention to upgrade your team so you all do better?
Who's On your Side? Who's Supporting You?
Owners and managers: Are you as profitable as you deserve to be? If you're selling AND managing, you're finding yourself going 6 ways to Sunday! If you're not satisfied with your results, consider Leadership Mastery coaching with Carla Cross. This is not a 'cookie cutter' program. This is a completely customized owner/manager program focusing on recruiting, coaching, training, leadership, delegation, and staff management. Why not hone your skills with Carla as your guide and support? Get your best sources of recruits, a great recruiting plan, AND a failsafe selection process to pick winners.
Sign up for a Complimentary Consultation to see if Leadership Mastery would benefit you. What do you have to lose?
Bonus for new coaching clients this month: $1000+ of Carla Cross's recruiting, training, and coaching resources FREE ! Includes:
The Complete Recruiter, at $129.95 value–the strategies, planner, and dialogues you need to recruit winners
Your Blueprint for Selecting Winners, a complete interviewing guide, a $79.95 value–free.
Recruiting Objection Busters, scripts and dialogues to counter the toughest recruiting objections, a $40 value
Business Planning for the Owner, Manager, and Team Builder,a $100 value
Operations/Orientation Manuals and Checklists, a $30 value
Coaching Companions to coach new or experienced agents, a $200 value
Advantage 2.0 facilitator guide, a complete training program (a $500 value)
Click here to learn more about Leadership Mastery Coaching.
Click here to schedule a complimentary consultation to find out more about the program, ask questions, and see if it's a 'match'. After your consultation, you'll receive a 'thank you' of a 2-pack management audio CD series.