How to Schedule your Business Planning Process
By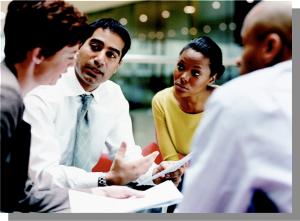 I know you want to help your agents gain great business plans. So, here's how to schedule your business planning process. I'm sharing some tips with you on initial scheduling for business planning and on-going coaching to a business plan. You'll see the dates in the schedule below are in January, because this is from a live webinar series I did for a real estate company. It would be better for you to start the process sooner.  I'll address on-going coaching in my next blog.
First, what doesn't work:
Hand out the planning pages and say 'have a nice day'.
Instead, you must have a schedule to assure the agent gets that plan written.
Scheduling an interview: When I'm teaching this as a course, or doing a webinar, I give the agents questions to interview their managers–questions that reveal what the managers foresee as strengths and challenges and trends in the marketplace and in their offices. See that interview scheduled below.
Here's the schedule I'm giving to the leadership to use for their business planning process:
This is just the first schedule. After the initial 'help', you must schedule individual appointments for the agent to finish his/her plan: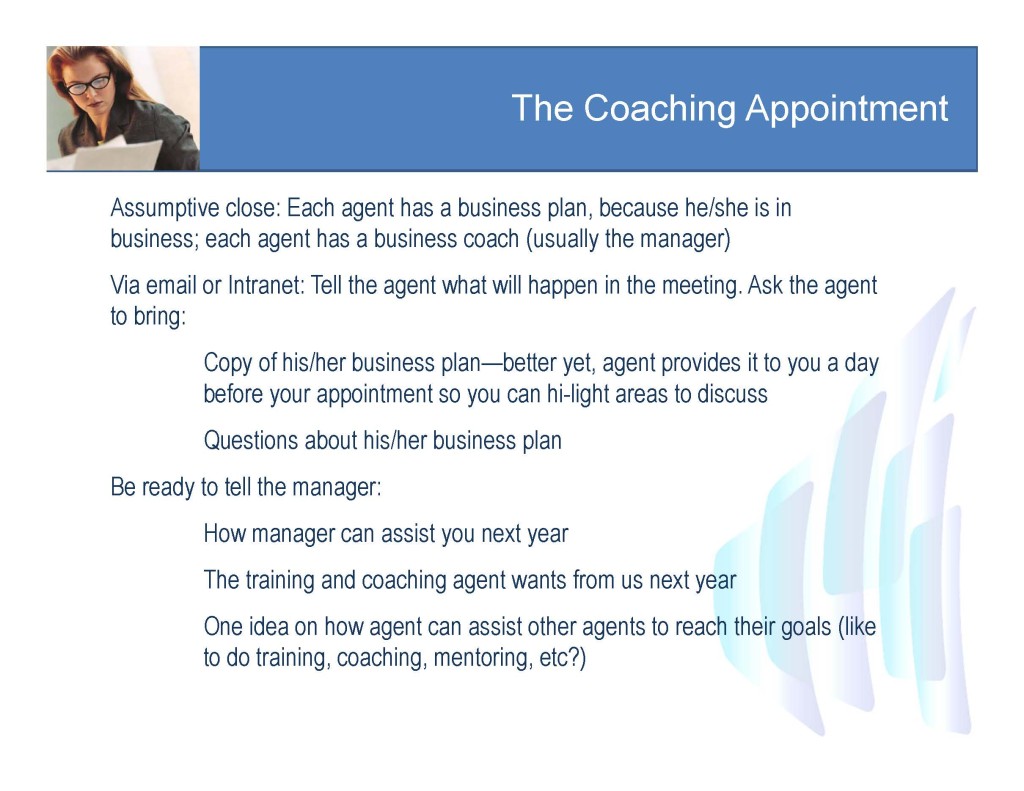 Now, you've educated the agents about business planning. You've team ified and created confidence with your meeting. Finally, you've set appointments for individual coaching for the plan. In my next blog, we'll discuss how to use the business plan for coaching all year, so you're fully imbued in the success with each of your agents.
Want Some Support to Get Your Agents Business Plans?
Webinar coming up: Join Carla as she shows you how to make business planning fun, exciting, and creative–and get a GREAT 2016 plan.
When: Dec. 4, 1-2 PM Pacific Time (that's 4 Eastern, 3 Central, and 2 Mountain)
Included:
The 3 critical components of a successful plan usually left out
How to make your plan truly YOURS, not someone else's (that won't work!)
What to STOP doing in 2016
What one thing will assure your plan works
And, much more!
If you're a pro, if you want to create a fun, successful, fulfilling career, you need the right kind of business plan. Don't wait to step up to the next level now. Join us!
Space is limited, so sign up now. This is a complimentary session, from Carla Cross, CRB, MA, who wrote the internationally published book on business planning, along with business planning courses for most of the major franchises. She's tested her system 'in the trenches' with real agents–so she knows what works.
Click here for more information and to register. Get inspired to make a great 2016 plan!
____________________________________________________
Want Help in Getting your Agents to Plan? Why not contact me to find out how I can educate your agents on business planning and support and coach you as a leader. Give me a call at 425.392-6914 or email me at carla@carlacross.com. I can do a webinar series for you, supply you will all the planning documents, and help your leadership coach your agents–at a very affordable cost with big pay-off for you.