Do Your Agents Have a Trust 'Issue' with their Clients?
By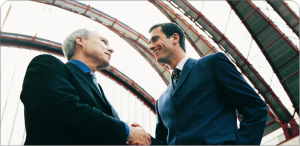 Do your agents have a trust 'issue' with their clients? (Look for the Trust Evaluator link below. Use it with your agents to test their 'trust quotients'–great meeting topic).
We're always telling our agents to 'work smarter', not harder. Yet, what does that mean? For one thing, in this low-trust world, it means creating high trust as a foundation for any sales action and decision. Yet, in the 'on fire' market of the past, agents didn't have to work very hard at creating trust. The market forced decisions and the consumers ended up buying from an agent they may not really know. Those days are over.
Why Creating Trust is a $$$ Issue
Do you know how much more it costs to get a new client than to keep an old one? Marketers tell us 6-9 times more. So, it's just good business sense to train your agents to create high trust with clients for return and referral business.
How You Can Help Your Agents Create Trust
Salespeople can't sell anything to anyone without first establishing an exceptional level of trust–an increasingly difficult thing to do. The ten tips below shared on in a recent radio show help sales professionals build a 'platinum level' of trust.
Five Tips to Raise your Agents' Client Trust Levels
Here are 5 tips, with special comments to you as a leader–in blue.
1. Learn non-verbal skills and apply them in writing, on the phone, and in person to establish rapport in an increasingly 'cold inquiry' world. 
Are you teaching them Neuro-Linguistic Programming (NL))? Are you working with them to pace and mirror in interactive workshops?
2. We believe what others say about a salesperson, not what the salesperson says about themselves. Use testimonials; check evaluation websites to see what consumers are saying about you.
Are you checking out what the consumers are saying about your agents on the web?
Look at www.realestateratingz.com and www.incredibleagents.com.
3. Create an after-the-sale survey and use it consistently. If there's something wrong, fix it fast.
Do you have an after sale survey that you send out from the office? How do you handle surveys that are less than stellar?
4. We believe what we see, not what we hear. Show, don't tell. Use visual presentations consistently.
Are you working with your agents to practice showing evidence?
5. Flip your sales presentations. Ask questions—lots of questions—first. Educate. Finally, sell (well, you won't have to sell).
Do you have a planned presentation you teach agents–and have them practice until they are 'killer'?
Click here to get your Trust Evaluator.