Archive for interviewing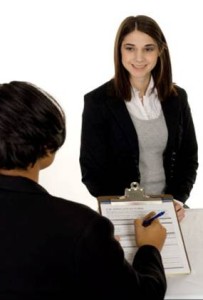 Think back to the last time you qualified a buyer, a seller, or a recruiting candidate. How much talking did you do? How many questions did you ask? Unfortunately, too many of us go into sales because we're good talkers. Then, we wonder why we're not burning up the world selling real estate. It's because we're talking too much. The same is true with us managers when we start recruiting/selecting. Here are some recommendations on talk vs. listening. You'l make more sales and gain more recruits with these tips.
How Much Talking?
If you want that person as a client or agent recruit
Do you want to do a presentation
Also, if we don't know their hidden needs and sub-conscious motivations, how are we going to help them make buying decisions?
Here's what that process should look like, whether you're an agent or a broker.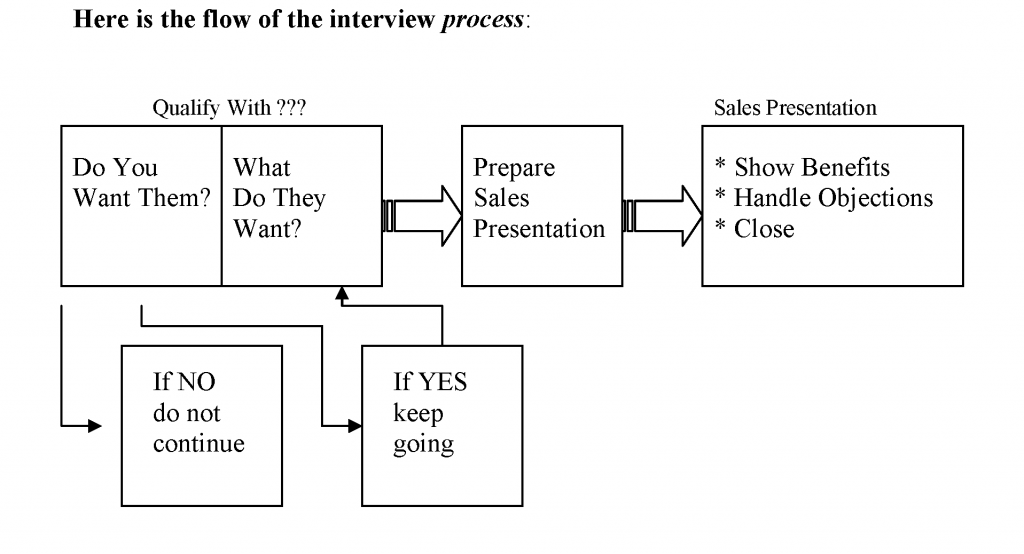 excerpted from The Complete Recruiter.
Why don't we ask more Questions?
If it's so important to ask all those questions, why don't we do it?
We get nervous, so we talk
We don't have the questions
We don't understand the significance
We've focused on the tell or the sell, thinking that was the way to convince people to work with us
The Significance of the Questions
How do we know when we haven't been able to sell something to a client? They don't buy. But, here's the problem. It's way too late then. Sure. We can become masters at objection-countering, memorization, and jam it down their throats. But, that's an awfully old-fashioned way to try to sell, and consumers hate that today.
Closing and then Answering Objections– Not Today's Best Method
We take all kinds of classes to learn to answer objections and close. We think that we're supposed to sell, sell–get those objections and answer them so beautifully that the client acquiesces and falls at our feet, buying whatever we want them to buy. Happens once in awhile. But, we don't gain loyal clients who will refer us to others. Instead, we create lots of buyers with buyers' remorse.
I hope you're now convinced to ask questions. In the next blog, I'll discuss more about this process, and give you some questions you can ask to screen potential new recruits–before you get them into your office (a great time saver).
Before I leave: How many questions do you ask a potential recruit? Are you satisfied with your selection process?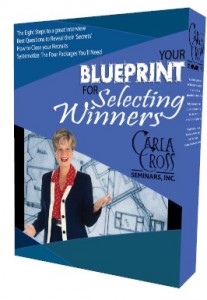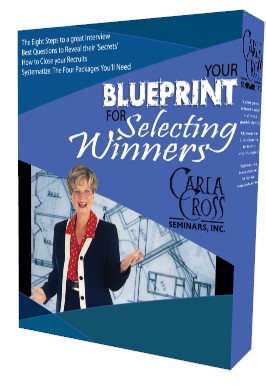 Want to streamline your selection process and recruit more winners? Check out Your Blueprint to Selecting Winners. I'll give you great questions to ask. But, better than that, I'll show you how to craft questions to discover exactly what YOU"RE looking for.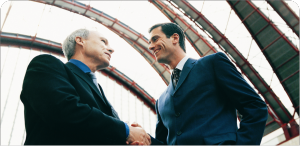 Recruiting: Here's what you need in your post-interview package. This month, I'm focusing on recruiting and selecting systems, to help you work faster and better and recruiter winners.
Remember the Chinese water torture? Drip, drip, a drip at a time. That's the key to recruiting successfully. Here's another drip you'll want to provide your candidate after that first interview. This is another package with the information you think the candidate will find useful. Here's why:
We remember only 10% of what we heard three days later!
Unfortunately, candidates don't remember much of what we discuss in the interview. Or, they remember it wrongly. It seems easy to us, but, it becomes a muddle to them when they interview five companies in as many days. So, take the time to assemble what I call the after first-visit package or post-interview process. In it, you'll reiterate important points, and again differentiate yourself and your company.
Systemize Like your Great Agents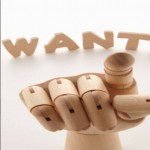 Great agents assemble these packages for sellers and buyers. You are modeling the behaviors you want to teach the agent. You can explain the parallels in the interview process. This is a very strong recruiting strategy. The old adages
In Your Post-First Visit (Post-Interview) Package
Here is a sample list of the materials you may include in an after-first visit recruiting package. Note that some of the material is duplicating your pre-first visit package. Also, sometimes you won't have the opportunity to provide a pre-first visit package. Of course, you'll always have the ability to customize each package. However, it's much easier to do this from a prepared package than to start from scratch each time.
Letter from the manager explaining what's in the package
 Training calendar (you do have one, don't you?)
Training brochure
Company/office/manager story
 Attractive company/office/manager statistics
 Articles featuring company/manager
 Costs of affiliating  with explanations
Bottom Line: You'ree Proving your Competency to Each Candidate With Every Recruiting Process You Do
Well-assembled packages reflect clear thought processes. Merely putting these together will clarify your recruiting and selection story. It will help you figure out and communicate your culture and values. It will provide you differentiation and memorability. It says to the candidate, I prepared for you. Your time is valuable. I am here to dedicate my skills and talents to help you develop your business.
You will recruit more and better agents, you will save time, and you will be able to delegate or clone yourself by hiring a manager or recruiter when the need arises.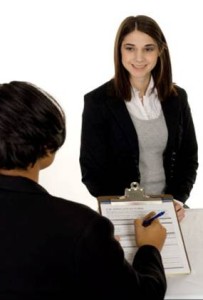 Are you talking too much in the interview?
A lot of recruiters/interviewers think that, if they're great talkers, they're great recruiters (same as agents think talking equals selling…..)
You're a manager who recruits. You want to get winners in that recruiting seat. You pride yourself on being a great talker. (A manager once told me he just talks them to death–until they say they'll join the company–what a great screening method-not!) But, too much talking is just old-style hard 'selling'–and that's certainly not the bulk of an effective selection process.
Ask, Don't Tell
The recruit says, "I want a deal."
Do you jump to a conclusion because you know what a deal means? Don't. You may be surprised. Instead, ask questions at what does a deal mean to that recruit? When you know exactly what the recruit means, you can proceed to find what he really wants–instead of what someone else told him he should ask for!
A Pre-Screening Process for New Agent Candidates to Save you Time
Ask these questions before you spend time and money chasing candidates who don't meet your standards. Click here to get my knockout factors on the phone.
Use In-Depth Questionnaires to Discover Real Needs
Besides using these preliminary questions, always use written in-depth questionnaires so you'll know
The benefits to the features/needs stated
Hidden objections you may not discover until too late
Motivations to buy that not even the buyers realize they have
Ever heard the term "buyers are liars"? I think that's not really the case. I think that we don't ask the right questions to help buyers (our recruits) clarify what they really want. Most ?buyers of services don't know what they really want. They think they want a better commission split. But, what they're really looking for is the motivation provided by secrity. That means different things to different people. Find out what's really motivating your candidate, not just what he says to your basic questions.
Ask the Right Questions in the Right Order and You Won't Have to Close
Finding the motivators of your buyers (recruit/candidate) is key to helping them make the right buying decisions for themselves. All you have to do to close is to remind them that this product fulfills their needs. And, how do you get there? By creating and using the right questions in the right order.
Don't forget to grab your pre-screening process–knockout factors to ask on the phone: click here.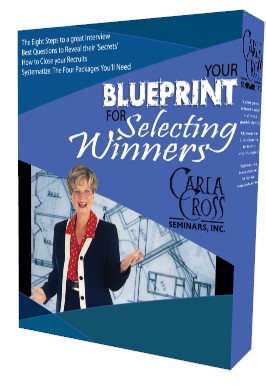 Want to streamline your selection process and recruit more winners? Check out Your Blueprint to Selecting Winners. It's completely digital, so you get all the information right now. Includes an 11-step proven process to interview successfully. Do you have a process or do you just 'wing it'?