Business Planning: Are You Making These 5 Planning Mistakes?
By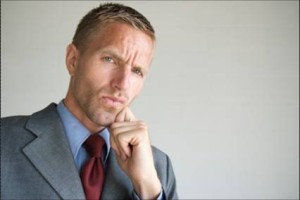 Business planning: Are you making these 5 planning mistakes?
During November and December, I'm writing business planning blogs to help you create great plans with your agents. Check these blogs, too, for checklists, processes, and systems ready to use.  For your agents: Check out Up and Running in 30 Days, my blog for your associates.
As you make your business plan, avoid the common mistakes that many real estate professionals make. Here they are:
MISTAKE #1
Betting on a business plan that's only about 1/4 of a plan. Many of us write down our goals. Yet, that's not a business plan. That's just one part of the business plan. There are six parts to a real business plan:
a. Your vision-what do you have as an "end in mind"?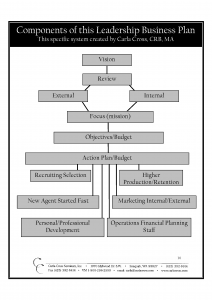 b. Your review-what happened last year?
c. Your mission-what are you about?
d. Your goals-expressed in the best terms for profitability today
e. Your action plan in each of 6 areas.
f. A method to measure your results.
Which parts do you include? What would your outcomes be if you thought through your business, covering all the bases?
Click here to see and grab my chart' of a manager's business planning system (excerpted from Beyond the Basics of Business Planning–one program for agents, one program for leadership.)
MISTAKE #2
Ignoring the importance of 'revenue units' (sales and listings sold). Unfortunately, when we write our goals, we like to use those great million dollar numbers and measurements like market share. Yet, setting goals for revenue units assures that you keep your eye "on the ball"-homes sold, which make you money. There's another huge benefit to focusing on revenue units: You can then integrate your agents' plans with your office plan.
MISTAKE #3
Not doing a thorough review (or not doing a review at all). Looking back on your last year is so important, because it gives you the "hints" you need to write your best action plan for the next year. I think it also solves the problem of the manager trying to figure out what to do next.
For example: It's amazing that brokers don't know one of their most important numbers for profitability: percent of listings taken to listings sold. You may be wasting many dollars in marketing homes that won't sell-no matter what you do. Also, your agents become unmotivated and depressed when their listings don't sell. Knowing this ratio gives you direction for your training and coaching for the coming year. Create a higher ratio and you'll be able to use it to recruit, too.
MISTAKE #4
Writing the plan 'in a vacuum.' Almost always, brokers sit down to torture themselves by writing a business plan in a room with the doors shut and no windows. But, they don't know yet what their agents want to accomplish for the next year. The right way to plan is this: First, help each of your agents create a business plan. The sum of your agents' goals should form the foundation for your goals. After all, your agents' efforts should be reflected in your revenue unit goals, shouldn't they? Yet, very few brokers even help their agents write business plans. So, they can't really get good projections of what they think their agents will produce in the next year.
If you do assist your agents in their planning processes, you will have a much better foundation for a realistic business plan of your own. (That also means you should be consulting your agents on their business plans in November, so you'll have all their plans together as you start creating your office plan).
MISTAKE #5
Not creating specific action plans in each of the action plan areas. Michael Gerber, a spectacular "guru" for small businesses, says "the integration of your systems is your business plan."
In other words, if you have a real business plan, I should be able to read it, come into your office on any day, and see how you're carrying out your business plan in recruiting, selecting, training, coaching, and marketing. You would be able to delegate many of your duties, too, because you had specific action plans for each of these areas. You would be able to measure your progress at any given point. Further, if you have created action plans that are systems, someone would be willing to buy your company from you, giving you a very attractive price! (That's what Gerber terms "franchising.")
Get Ahead of the Curve
If you don't have a business plan, there's still time to get one done. Just by thinking through your business, you'll be ahead of 95% of your competing brokers!  If you want to make more money, gain time, delegate more to others, open another office, or create an office that's saleable, it all starts with thinking through your business, getting it down on paper, and attaching systems to each of your action plan areas. Now, you've got something you can run, you can delegate, and you can sell.
Missed my complimentary business planning webinar?
Watch it here, and get all the handouts AND slides.
And, don't forget to check out my comprehensive business planning program, all online: Beyond the Basics of Business Planning.
It's much more than just a business planning process. I train your agents and consult with you and your agents to make great plans!