Author Archive
Here's how to know if you're wasting your time training. Really!!!!  Just because you 'have training' doesn't mean it's effective.
Every company says they 'have training'. Yet, whether you've been in business 2 days or 20 years, you've probably felt frustrated that those hours spent in class–listening to someone at the front (the 'expert)–didn't do you any good. There are reasons training doesn't work—and here's how to make it work for you, so you don't waste precious hours in training rooms–either as an instructor or as a student.
Don't forget: Get the Analysis of your Sales Performance Skills worksheet at the end of this blog. This is great for managers to use to plan training needs and for agents to use to assure they're refining the skills that make a difference.
Training: Taught Right or Not?
Training doesn't work because it's not taught right–and the people in the class aren't doing what needs to be done for training to make a difference in their lives.
 Here's what training needs to help you every time you're in class:
 Training must have action inside class to be effective for you. If you're the instructor, you must use 'alternative delivery methods' to get those students into action in class. What are alternative delivery methods? All those methods used to train that aren't lecture. (see below).
 What do I mean?
 I mean we have to look at real estate as a 'performance art', not a 'knowledge pursuit'!
Big question for you: Think of your last 3 trainings. What were you doing in class? Listening to the 'expert'? Or, were you putting to work what you were learning—while in class, so you could get valuable feedback before you 'practiced' on real people—your clients?
Here's Effective Training
What you need to be doing in class to assure you can do it 'for real': (these are alternative delivery methods)
If it's appropriate, you need to role play (like answering objections, giving a listing presentation, etc.)
If appropriate, you need to differentiate (like finding mistakes in a purchase and sale agreement).
If appropriate, you need to practice the actions in class and then go out and do it with a 'real person'—the client—and come back and tell how it went (practice a listing presentation, do it 'for real', and come back to class and refine it).
None of these things happening in class? Make it work anyway. Take the 'actionable' items you learned in class and go do them—for real—within 3 days of going to class (otherwise we only remember 10% of what we heard!!!!!). Now you've made your own action plan.
Trainers: I did a series of 5 videos showing how to make your training work. See them on my uTube channel.
Note: I'm a bit shocked when I hear that those who took a 'Train the Trainer' course didn't learn any of these methods. Just learning how to drone on (in lecture) just doesn't cut it with today's audiences–or with assuring your students actually can apply skills!
 Real Estate: Performance Art or Knowledge Pursuit?
 Let's be honest: Do you know someone in your office who seems to know everything—but doesn't sell a stick of real estate? Sure. That's the problem with treating real estate as a 'knowledge pursuit'. It has little to do with results.  Our profession is a performance art. How you perform in the field—with real clients—determines your success.
Big question for you: Which kind of real estate professional are you? A 'performance art' agent or a 'knowledge pursuit' agent?  Which is easier to become?
Your Training Should Resemble a Piano Lesson
As a long-time pianist and teacher, I know intimately that, if you don't practice, you can't play (or you play badly)! Think of effective training like a piano lesson. You practice outside class. You come prepared. You get tips and modeling from your teacher. Then you practice in class with your 'coach' watching and listening. Then, you 'go out in the field' and practice. You come back ready to perform for your coach again. That's effective training.
Here are 3 things that don't work in training (and things for you to avoid):
 Listening for a long period of time and thinking you can do it (you already know that, from your experiences, right?)
Thinking most company training will 'do it' for you
Relying on 'on demand' video. Many large franchises are providing video on demand training. Brokers may be relieved that this is going to take training off their plates. I wish.
Unfortunately, video training can provide very limited production results. Why? Because people don't learn much by watching video. Yes, they learn a little. They observe someone else doing something; they get information. But, they don't have to take action.
When you're ready to get results from your training, you'll be ready to treat your training like the power tool it really can be.
Want to see an effective training program? Check out Up and Running in Real Estate.
 Don't forget to grab that Analysis of your Sales Performance Skills here.   
And, be sure to check out my uTube channel for those 5 videos on alternative training methods.
Want to Be Approved as a Clock-Hour Instructor in Washington–and Learn from Carla?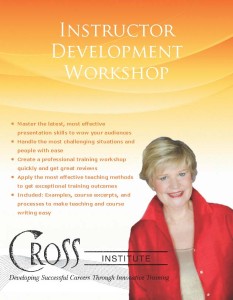 Get approved for teaching real estate clock-hour approved courses. Receive 15 clock hours of continuing education credits. Learn from the only Washington's only National Realtor Educator of the Year. Gain invaluable strategies; worth so much more than just clock hours or certification!
New! Bring the course you want to teach and we'll apply new teaching methods for you. Get strategies to be the engaging, creative instructor you know you are!
2018 scheduled courses:
May 22-23, 2018 in Bellevue, Wa..      Click here for more information and registration.
Fall course: Oct. 23-24, 2018 in Bellevue, WA. (registration link to be included later).
Need to get approved as an instructor right away? Order our distance learning course  Train the Trainer. Fulfills the same requirements, has the same curriculum, has 15 clock hours. Take this course at your own speed and fulfill the requirements to become a Wa. state approved clock-hour instructor.
Your knowledge of my part of the business helped me to recognize ideas I can use in title insurance and escrow. Judy Williams, Chicago Title
Carla is fantastic! I will always be appreciative. Kim Emmons, manager, John L Scott, Maple Valley, Wa.
Instructor is 100% competent. Her passion, professionalism, and knowledge of the subject is passed on to her class. Mike Kerwin, Keller Williams Realty
Bonus: 30% discount on 3 of Carla's training resources to attendees.
Space is limited. Don't miss this opportunity! Click here for more information and registration.